Nongsa Resorts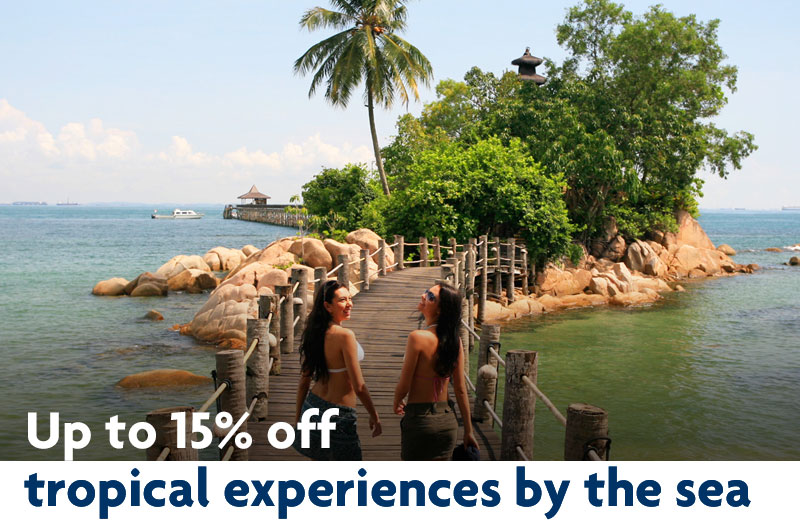 Nongsa Resorts


Enjoy up to 15% off Best Available Rates:
•
Nongsa Point Marina & Resort
- 15% off Best Available Rate for stays from Sundays to Fridays and 10% off Best Available Rate for stays on Saturdays1
- 10% off ala carte food & beverage2, marina activities, sea sports in Turi Beach Resort and golf / footgolf in Tamarin Santana Golf Club
- Complimentary stay3 for kids aged 12 and below
Booking & Stay Period: Till 30 December 2017
For online booking of stays, book at www.nongsapointmarina.com
with promo code: UOBNONGSA17
For offline bookings, email reservation@nongsapointmarina.com

•
Nongsa Village
- 15% off Best Available Rate for stays from Sundays to Fridays and 10% off Best Available Rate for stays on Saturdays1
- 10% off ala carte food & beverage2, spa & massage, marina activities, sea sports in Turi Beach Resort and Nongsa Point Marina & Resort including golf / footgolf in Tamarin Santana Golf Club

Includes:
- Complimentary land transfers within Nongsa Resorts to either of these destination points: Nongsapura Ferry Terminal – Nongsa Point Marina & Resort – Nongsa Village – Turi Beach Resort – Tamarin Santana Golf Club
- Complimentary usage of all Nongsa Resorts' swimming pools and Jacuzzis
- Flexible check-in any day from 8am to 5pm
- Late check-out till 3pm subject to deluxe villa's availability on departure date
Booking & Stay Period: Till 30 December 2017
For online booking of stays, book at www.nongsavillage.com
with promo code: UOBNONGSA17
For offline bookings, email ai@nongsavillage.com

•
Turi Beach Resort
- 15% off Best Available Rate for stays from Sundays to Fridays and 10% off Best Available Rate for stays on Saturdays1
- 10% off ala carte food & beverage2, marina activities, sea sports in Nongsa Point Marina & Resort and golf / footgolf in Tamarin Santana Golf Club
- Complimentary stay3 for kids aged 12 and below
Booking & Stay Period: Till 30 December 2017
For online booking of stays, book at www.turibeach.com
with promo code: UOBNONGSA17
For offline bookings, email reservations@turibeach.com
Terms and conditions
1Not applicable on public holidays and black-out dates; Surcharges apply.

2Not applicable for purchases of cigarettes and alcoholic beverages.

3Complimentary accommodation, international buffet breakfast and two-way land transfers between the resort and Nongsapura Ferry Terminal are valid for a maximum of two children (aged 12 & below) per resort room, chalets and apartments.

All payments must be made in Indonesian Rupiah with a UOB Credit/Debit Card. Individual Nongsa Resorts properties (i.e. Nongsa Village, Nongsa Point Marina & Resort and Turi Beach Resort) terms and conditions apply. The Nongsa Resorts management reserves the right to vary, amend and/or otherwise terminate the offer and terms and conditions without prior notice. In the event of any dispute, the decision of Nongsa Resorts is final and binding. UOB Online and Travel (Non-Online) Privileges' General Terms and Conditions apply.